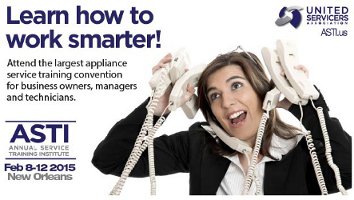 Are you coming down to New Orleans for the Annual Service Training Institute (ASTI)? It's the premiere annual appliance repair training event in the country, held this year February 8th through 12th in New Orleans, LA. Many of the major manufacturers offer training classes. It's a great way to pick up all the newest tricks on the latest models and to connect with your brethren (and sisteren) in the craft.
A lot of the big names and who's who of the appliance repair world are going to be there. In addition to all the mucky-mucks, Mrs. Samurai and I will be there, too. Make sure to stop by Booth 39 for cupcakes, a fun little quiz, and even a raffle! We'd love to meet more of our Samurai Tech Academy students and fellow Appliantologists face-to-face.
Going to ASTI can pump up your skills and re-energize your business. It's also a morale-booster to spend time with other folks in the trade, swap war stories, and even get inspired with new ideas. We've attended for years, and are excited to now be there representing the Samurai Tech Academy!
If you can make it to New Orleans this year, be sure to connect with us on the ASTI mobile app (just search for "Samurai"), and come by Booth 39! We've got a cupcake just for you.