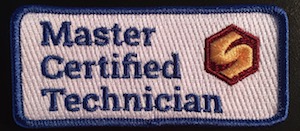 One of the perks of earning Master Certification for Bundle 1 courses is that the tech is eligible to wear a special uniform with a "Master Certified Technician" patch on it.
Here's what you need to know:
1. The technician must have earned Master Certification for the 3 technical courses in Bundle 1. (See details here.) If you aren't sure that your tech has qualified, Contact Us to find out.
2. The employer (franchise owner) must order the patches. Why? We consider the privilege of wearing the "master" uniform as being bestowed both by Master Samurai Tech and the Mr. Appliance® franchisee. Team Samurai has supervised the coursework, and the franchisee has supervised the tech's work in the office and in the field. Therefore, it is the franchisee who orders the patches for the technician.
3. These sew-on patches are sold in a set of 6 for $39, shipping and handling included. Use the form below to place the order and make the payment.
NEW OPTION: you can have the patches embroidered onto the uniforms directly by Get Noticed or Darter. This is not something that we arrange, but we do need to be sent an email from a rep for the uniform company so that we can confirm the tech earned Master Certification. If you are going to do that, DO NOT order the patches here.