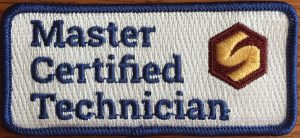 Master Certification is earned by completing
Core Appliance Repair Training
Advanced Course Bundle (four courses)
and earning 90% or higher on each quiz and exam in every course.
What does a Master Certified Tech earn?
A well-trained tech will earn more and have higher job satisfaction. But there are other fun rewards as well. A Master Certified Tech can receive the following:
A custom-printed and signed Certificate of Achievement (fill out the form below)
A special uniform with a "Master Certified Technician" patch. The franchise owner must order them using this form.
A Congratulations Graphic with the tech's photo to post on social media or your website (click here for details)
BONUS: If you earn Master Certification, you are eligible for a FREE Appliantology membership. Click here to read about the MST Alumni Program.
If you have met the requirements for Master Certification, then show your accomplishment off to the world with a fine certificate, signed by the Samurai himself and mailed to you. Simply submit this form to us and we'll get 'er done.
---
For Students who enrolled prior to April 1, 2022:
Students enrolled in the Full-Support courses ("Bundle 1") are eligible to receive two levels of Certification upon successful completion of the courses from Master Samurai Tech. You will still use the form above to request your Certificate.
1. Master Certification is earned by successfully completing the 3 courses in Bundle 1.
2. A Certificate of Achievement is issued to techs who successfully complete either Advanced Oven and Range Repair or Advanced Washer and Dryer Repair. A pdf of this Certificate will be emailed to the graduate.
All Certifications have the following criteria:
scores of 90% or higher on each quiz and exam in all courses