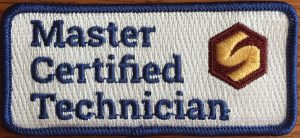 Students enrolled in the Full-Support courses are eligible to receive two levels of Certification upon successful completion of the courses from Master Samurai Tech.


1. Master Certification is earned by successfully completing the 3 courses in Bundle 1.
2. A Certificate of Achievement is issued to techs who successfully complete either Oven and Range Repair or Washer and Dryer Repair. A pdf of this Certificate will be emailed to the graduate.
All Certifications have the following criteria:
scores of 90% or higher on each quiz and exam in all courses
What does a Master Certified Tech earn?
A well-trained tech will earn more and have higher job satisfaction. But there are other fun rewards as well. A Master Certified Tech can receive the following:
A custom-printed and signed Certificate of Achievement (fill out the form below)
A special uniform with a "Master Certified Technician" patch. The franchise owner must order them using this form.
A Congratulations Graphic with the tech's photo to post on social media or your website (click here for details)
BONUS: If you earn Master Certification, you are eligible for a FREE Appliantology membership. Click here to read about the MST Alumni Program.
Remember, Master Certification is only earned by completing the Bundle 1 courses.
If you have completed any of our technical courses and achieved the target scores required for certification, then show your accomplishment off to the world with a fine certificate, signed by the Samurai himself and mailed to you. Simply submit this form to us and we'll get 'er done.
---
You must be enrolled in our Full-Support courses and logged in to the site to request a certificate!