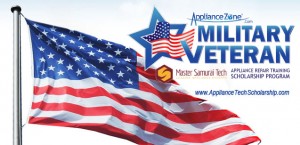 Just in time for Memorial Day, the Samurai Tech Academy and ApplianceZone.com are thrilled to team up to offer a unique scholarship opportunity for free appliance tech training to military veterans. It's our way of saying "THANKS!" to all military veterans for the sacrifices they've made for us by serving in the armed forces.
Learning a skilled trade, like appliance repair, is a great way to ease the transition back into civilian life if you're just coming off active duty. Skilled appliance techs are in great demand with lots of employment opportunities. It's also a great way to start your own business and be self-employed.
Scholarship recipients will have ½ of their tuition paid at the start of the Fundamentals of Appliance Repair training course at the Samurai Tech Academy, with the remaining tuition costs being reimbursed to the recipient pending completion of the course. The course must be completed within 90 days to fulfill the scholarship criteria for reimbursement.
ELIGIBILITY REQUIREMENTS:
Applicant must be retired, honorably discharged, active duty, or a member of the National Guard or Reserve.
Learn more about the veteran's scholarship program and apply at ApplianceTechScholarship.com